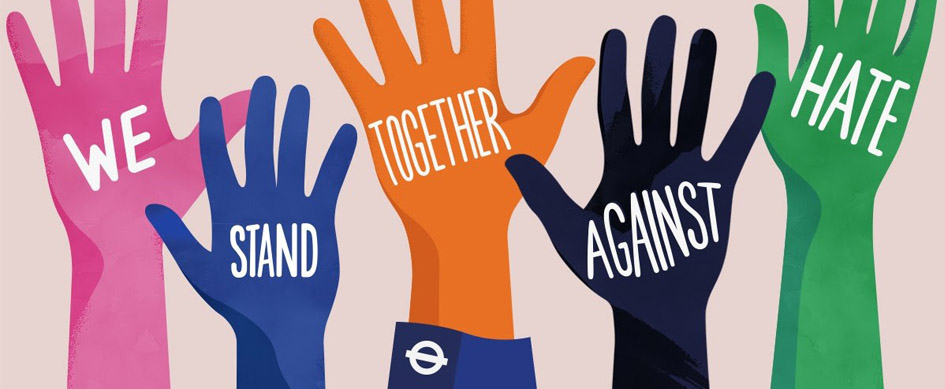 About this activity
Suitable for KS3.
Hate crime has no place on London's public transport network. We work with the Metropolitan Police Service, British Transport Police and City of London Police to help keep our network safe. Anyone who witnesses or experiences a hate crime should report it to the police.
Every report to TfL staff or the police will be taken seriously. If you experience or witness a hate crime, you can report it by speaking to a member of our staff or contact the police by calling 101 or text 61016. You can also report it online at https://www.report-it.org.uk/
In an emergency, call 999. The impact of hate crime can affect an individual and their community. It can be harmful on a person's physical and mental wellbeing, making them feel unsafe and preventing them from getting out and traveling.
Activity steps
1
Identify and prioritise the problem
Work with your school council or equivalent, and your Schools Police Officer to see if there is a problem with hate crime on public transport when your students are travelling to school.
2
Find out more about the impact of hate crime
Explore the resource links, lesson plans and documents to understand hate crime and how to combat it.
3
Spread the message
Share your messages with pupils and the wider school community through assemblies, posters and newsletters on your website.
4
Check for success
How did your pupils respond to the promotion? Have you received any feedback from students, or for example local bus drivers? Has behaviour on public transport improved?
5
Tell your story
Add your story to the STARS website and feedback to your Borough Officer.
Tags
This activity counts towards:
How it helps
Raises awareness of hate crime
Highlights the impact of hate crime
Supports the PSHE Curriculum
Encourages children to feel safe on the network